A-S Properties is a third generation family owned business. The current owner/operators are Bob and Eileen Sain. A-S Properties has it's roots in Illinois, where Bob's grandfather Anton Sain, a Yugoslavian immigrant, learned the art of sausage making and meat processing. Anton moved his family to a homestead near Whitetail, Montana in 1922 and turned an old cook car into his first processing facility. Over the years, Anton taught his son Anthony and in turn Bob the business as well as handing down some of the sausage recipes from the old country.
The over 90 years tradition of A-S Properties has come a long way from the original cook car on the prairie. In 1986 the plant was moved to the edge of Scobey, Montana and a large new modern facility was constructed. In 1988 A-S Properties was granted Inspection.
A-S Properties is your one stop for complete wild game processing providing very affordable wild game processing and a variety of options from simple skinning and boning to full processing of all types of big game animals. Your trophy can be caped. Your finished product is shipped overnight in an insulated container. If you are interested in hunting in Northeast Montana; A-S Properties can provide you with maps of the four Counties and landowner contacts.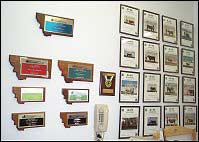 In addition to being northeast Montana's finest abattoir and sausage maker, A-S Properties also sells homemade sweet mustard, Montana made jams, pasta, and many varieties of wild rice. In addition, they are well known throughout the area for their deli trays which feature a variety of cheeses, lunch meats, ham, smoked turkey, and more.
A-S Properties has been recognized many times by the Montana Meat Processors Association for their high quality products and have received multiple plaques for their grand champion entries in state competitions. For all of your specialty meat and sausage needs, A-S Properties is the only processor you need to know.